E
glise Baptiste du Calvaire started in early 1977 as an outreach mission of the French Speaking Baptist Church of Brooklyn, New York. Pastor Joseph Theodore, late Sister Lydia Edouard (a.k.a. Soeur Demet), Brother Roosevelt Michell, and Pastor Jean St-Ulmé led this mission to minister to a bourgeoning Haitian population in Washington, D.C. and its Maryland suburbs. The first official meeting was held on October 16, 1977 in the basement of Israel Philogène. Later on, the meetings were held at the National Baptist Church of Washington D.C. Hence, the First Evangelical Church of Washington D.C. was born and was led by the late Rev. Arthur Bonhomme.
By 1981, as the Haitian population grew and diversified, God spoke in Pastor St-Ulmé's heart to move permanently to the Maryland area and tend to the growing spiritual need in the community.
From January through May 1982 Pastor St-Ulmé led a prayer meeting in his living room each Saturday, attended the First Evangelical Church on Sunday mornings, and served the spiritual needs of the people in their homes or at their bedside in the hospital on Sunday and weekday evenings.
Supported by his wife Rienne St-Ulmé, Sister Demet, and Brother Liberisse Dorcély, Pastor St-Ulmé founded the Haitian Baptist Mission of Silver Spring as a continuation of the outreach mission. Formal inauguration of this new church occurred on May 16, 1982 with a congregation of 19 that included three minor children. On July 24, 1983, pastor Jean St-Ulme was ordained as leading pastor.
On November 5, 1989, the church adopted its current name Eglise Baptiste du Calvaire (Calvary Baptist Church) and began operating independently. The church held Sunday morning services in a rented space from the First Baptist Church of Silver Spring. During the period from May 1982 through February 1992, the congregation of 250 members outgrew the capacity of that location.
Eglise Baptiste du Calvaire (EBC) held its last service at First Baptist Church on February 28, 1992; thus began its journey for a permanent church building. From March 1992 through August 1992, EBC held its services at the Temple of Israel of Silver Spring. From September 1992 through March 1999, EBC continued at Eastern Middle School. In July 1993, EBC acquired land at 10002 Riggs Road, in Adelphi, MD in the hope of erecting a church building to accommodate its congregation.
Part of our history in pictures
In April 1999, EBC continued its services at Montgomery Blair High School while laying the ground for the church construction. Services were held there until the completion of the building. From 2000 to 2006, the University Baptist Church, located on the campus of the University of Maryland at College Park, was also used to conduct prayer and other administrative meetings.
On October 23, 2004, EBC held groundbreaking ceremony to begin construction of the new church. Dedication and inaugural ceremony will be held on April 9, 2006, where the church is located today.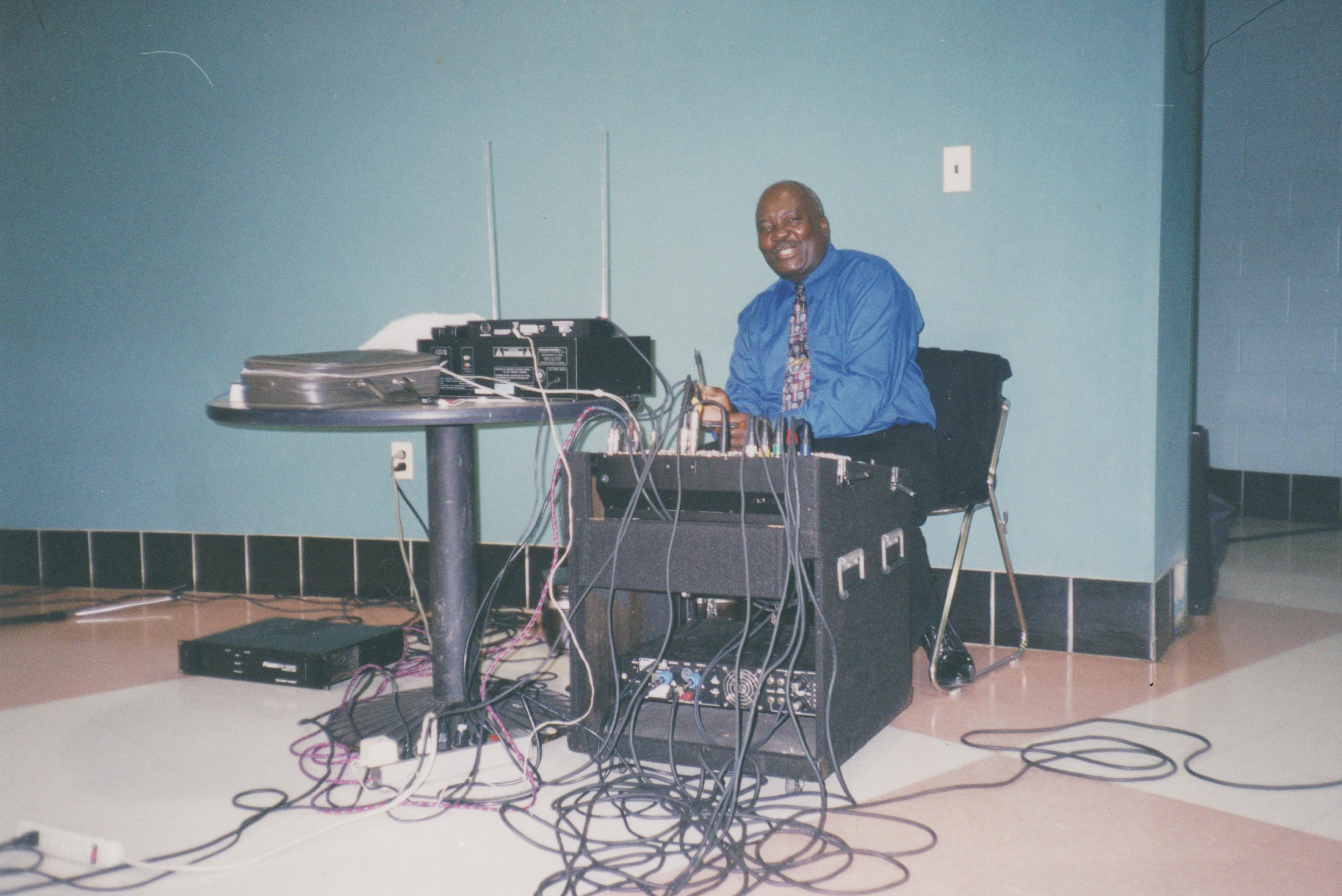 Brother Monpoint – One of the oldest technician
Construction From Start to Finish
On October 23, 2004, EBC held its groundbreaking ceremony to begin construction of its new church building.
Construction From Start to Finish
On October 23, 2004, EBC held its groundbreaking ceremony to begin construction of its new church building.